Apple announced financial results for the first quarter of 2019. They have reached an $11.56 billion profit in the first quarter on sales of 58 billion. This profit is within its own expectations, but five percent lower than a year ago.
Apple had already taken these lesser results into account. After all, they already issued a profit warning for the fourth quarter due to disappointing iPhone sales. CEO Tim Cook talks about a strong quarter for wearables and accessories. However, the service branch has apparently broken an absolute record.
Since this year, the mobile phone supplier is no longer reporting sold quantities of its iPhones, iPads and Macs. However, some analysts estimate that the company shipped 42 million of these items in the last quarter. This would mean a 19.6% decrease in comparison to last year.
Apple lost its place to Huawei
According to IDC, the company who published the below stated Quarterly Mobile Phone Tracker, Apple has once again lost its place in the world ranking of smartphone sales to Huawei. Huawei is number two in the ranking, after Samsung. In total, smartphone manufacturers shipped 310 million copies in the first quarter. Apple's smartphone sales are said to have decreased by around 30%. For the next quarter, the company expects a turnover of between $52.5 and 54.5 billion.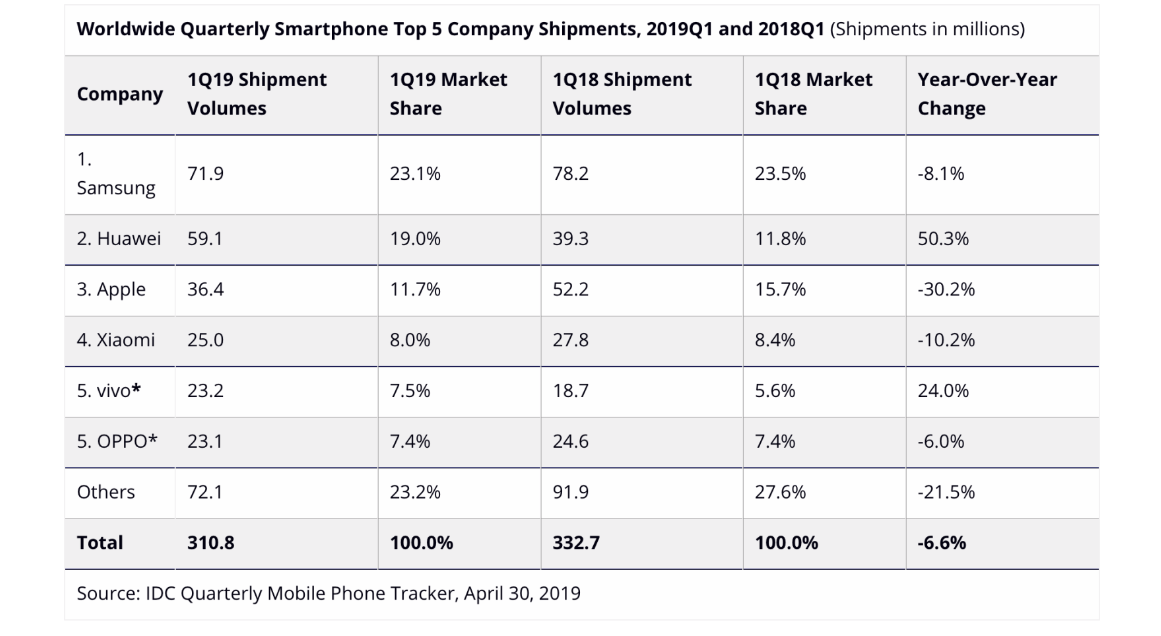 Intel
There are rumours that Apple wants to buy the modem branch of Intel now that this company wants to stop building chips that bring modem functionality to mobile devices. That decision followed after the smartphone company concluded a mega-deal with chip maker Qualcomm. For now, Intel denies that there is a relationship. However, Apple is not the only company interested in purchasing Intel. Samsung, Broadcom, ON Semiconductor and Unisoc Communications are looking into purchasing the Intel component.